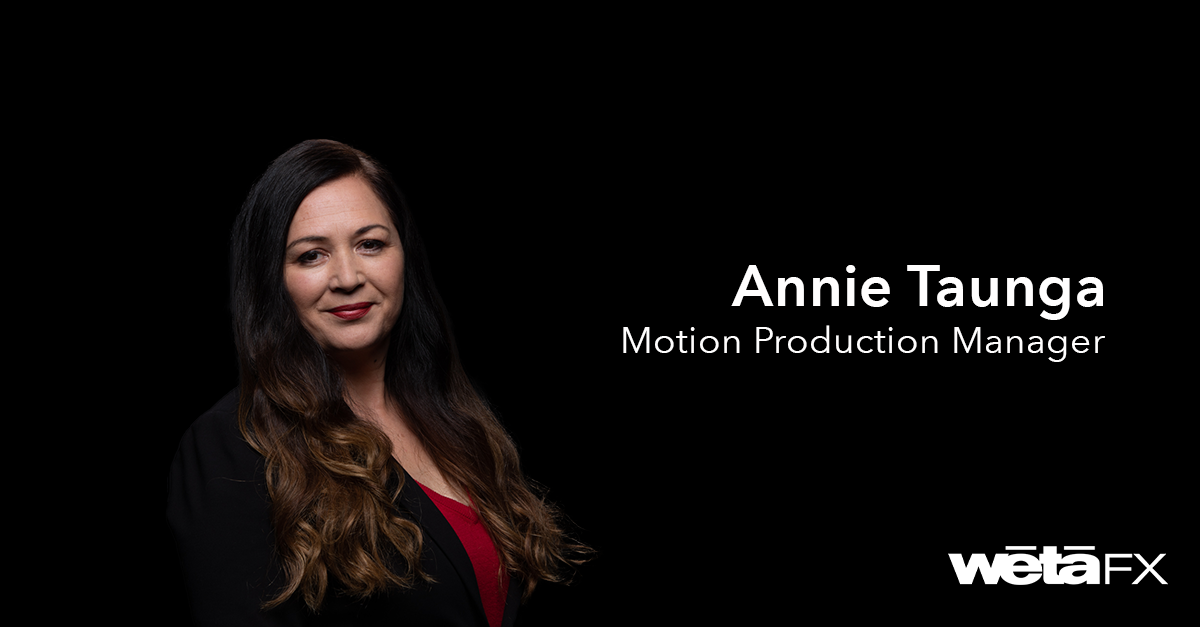 Behind the Scenes with Annie Taunga
Published on October 30, 2023
---
Susie Kleis
LinkedIn Project Manager at Wētā FX
---
Annie Taunga talks to us about starting her career on 'Lord of the Rings' and her journey in VFX.
Can you tell us about your background?
I was born in New Plymouth, Taranaki, a small town on the West Coast of New Zealand's North Island. I am of Cook Island descent on my Dad's side and Kiwi/Irish descent on my Mum's side. I'm the middle child of three women. I have a 16-year-old son and an 8-year-old 40 kg dog.
When did you join the Wētā FX team?
I originally started at Wētā FX in 1998 as a Production Assistant. I was studying for a postgraduate degree in Library and Information Systems after finishing my BA in Theatre and Film. I was fortunate enough to get an interview when Wētā FX was shooting the 'Lord of the Rings' trilogy and decided to pause my studies to take up the position - I've been here ever since, apart from four years at Animal Logic in Sydney where I worked on 'Happy Feet'.
What does your role entail?
As a Motion Production Manager (my current show is Rebel Moon) I manage a team of Animators, Facial Motion Animators, Crowds and Motion Edit and Motion Production crew.
My days are never the same. Working alongside our Motion Supervisor and Motion Production team I oversee all the resourcing, bidding, casting and scheduling of motion shots on the shows I work on.
My last Motion shows were the Umbrella Academy 3 which in which Pogo won a VES for Outstanding Animated Character in an Episode, Commercial or Real-Time project and Black Panther which was nominated for an Oscar for best Visual FX!
What would you say is your biggest career achievement to date?
I'm most proud of my first ever credit on 'The Fellowship of the Rings'. It was very exciting to see my name at the end of a film for the first time after so many years of working on such an excellent project. It was also a very compeling time to be working in film and VFX in Wellington, and Wētā FX worked on so many new and ground-breaking technologies.
I worked in some very diverse roles - it was hard work and long hours but such a lot of fun. I made lifelong friends and have been mentored by some of the world's top filmmakers.
When I was Wētā FX's Art and Reference Production Assistant on 'The Lord of the Rings'. I got to go on set to collect miniatures, wardrobe, maquettes, jewellery and props for reference so that our digital artists could build digital doubles, creatures and environments. I have fond memories of carrying Sauron's sword and Galadriel's gowns, as well as trying to carefully manoeuvre a giant-sized eight-legged Shelob maquette through doorways and into cars.
What was your favourite show to work on?
I have many favourite shows - 'Avengers: Infinity Wars' and 'Avengers: Endgame', also 'Jungle Book'. But I was particularly fond of working on 'Furious 7'. Like many from my home town I love a good V8, so I'm a hardcore fan of the 'Fast and the Furious' franchise. I remember seeing early previs of the final scene before we started working on it and sitting at my desk bawling my eyes out. It was a real honour to work on that film!
What was the best piece of advice you were given in your career?
Even though you may be the quietest person in the room, your voice is still important. Everybody has their own story so enjoy your journey and own it!
What advice would you give to young people starting out in VFX?
Find your passion and discover what you are good at and believe in it. It takes a whole community to make a film and there are lots of exciting roles to support the filmmaking, from production assistant to producer, and IT to marketing. If you want to work on movies but you're not an artist, technical or creative, embrace any opportunity to use your skills and follow your dreams. You never know who you will meet along the way have a go and find out!
What do you love most about living and working in Wellington?
I love the compactness of the city. I live just a 5-minute drive from work and from the central city. There are never traffic jams and I love being able to walk with my son and my dog on Lyall Bay beach (also only 5 minutes from home!) - even in those crisp brisk southerly winds that Wellington is so famous for. Driving to work I often see pods of orca or dolphins frolicking and feel so lucky to live here.
-Thanks Annie!