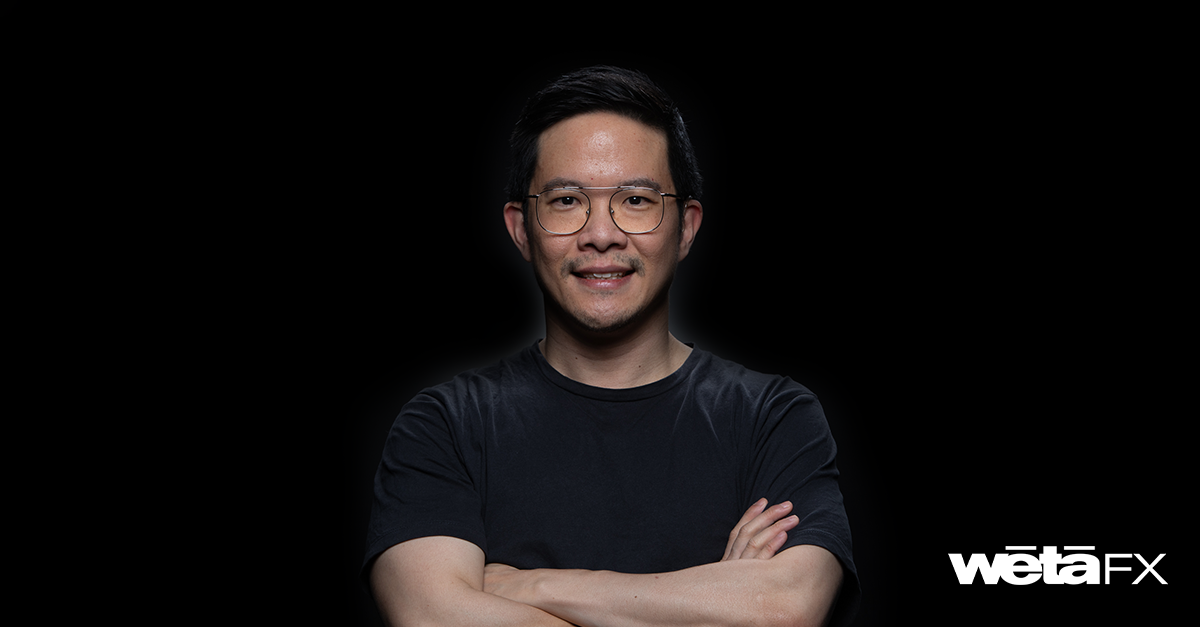 Behind the Scenes with Jerome Moo
Published on August 21, 2023
---
Susie Kleis
LinkedIn Project Manager at Wētā FX
---
Jerome Moo tells us about his career journey from Commercial Illustration into VFX.
Can you tell us about your background?
I am deaf but I can't sign very well. I grew up in the hearing world, so I didn't have any deaf friends. Mostly, I have been communicating via lip reading and speech to the best of my abilities. My dad had prepared me for the reality of life at a very young age by training me very consistently to be able to speak as clearly as possible.
When I am not watching movies, TV shows or playing video games, I like to draw and paint. In Wellington, sometimes I participate the life drawing classes, organised or join the plein air painting group. Plein Air means outdoor painting, but you can use any medium. I'm trying to be more active in the local Art Scene whenever I am not too busy at work, or being too lazy.
As a Malaysian, I am very partial towards Malaysian food. But as time goes on, I grew to love the local cafes. Wellington has, arguably, the best coffee that I have tried so far!
I originally studied Commercial Illustration in Malaysia. My real education in Visual Effects, and by extension, the Film Industry, came from my time at Lucasfilm Singapore. Initially I applied for the position of concept artist at LucasArts. However, after the recruiters looked at my reel, they decided to let me try their newly formed Digital Artist Group instead. In that department, we had the opportunity to work with and learn from all of their divisions: LucasArts, Lucasfilm Animation and ILM, so I had a great and enriching 'work education'. I would like to take this moment to thank the recruiters at that time and all of my helpful mentors and colleagues there. I am who I am now because of you all!
Why did you join Wētā FX?
When I was in college, the movie "The Lord of the Rings" came out. I was very inspired by their fantastic production design to the impressive Visual Effects. I pored over all of the Behind-The-Scenes materials and saw how much fun the crew had working on those movies. So I wishfully dreamt that one day I will be involved in a production like this. I also really wanted to see New Zealand and the beautiful landscape that inspired the movies. So, when my dear friend and former colleague asked me if I wanted to come over for a short contract to work on The Hobbit 3, I couldn't say no! My first taste of Wētā FX and New Zealand in general was so memorable, that I asked if I can come back again!
Can you summarize your role in one sentence?
My role as a Digital Matte Painter is to provide high quality solutions to the creation of the environment, either as one-off shot or a sequence, within the given scope and limitations of the project.
What's your proudest career achievement to date?
My proudest career achievement to date is when I became one of the select artists to receive a VES Award nomination for our work on Environment in a Photoreal feature for the movie "Suicide Squad" last year. This is my first global recognition and it came out of the blue for me. I never expected it at all. I am very honoured to be one of the recipients, especially as a disabled person. It really goes to show that, in spite of your handicap, when you are prepared to put in the hard work and dream big, anything is possible. At the same time, I am very humbled and grateful to all of my teammates and leaders for their support!
What is the best piece of advice you were given in your career?
When I started out, I have been given a lot of helpful guidance and tips on surviving and doing well in this industry. But there's one simple advice that stuck with me even until now : "A stupid question is better than no question". I find that this statement applies to any stage of our career, no matter how experienced we are. If there is something that we are unclear about, no matter how small or silly it sounds, it is always better to ask rather than being unsure, do nothing or the wrong thing and make it worse for everyone down the line.
What was your favourite Wētā show to work on?
All the Wētā shows are interesting to work on in their own ways. However if you were to ask me which show is the most unique to me by making use of all of my generalist skillsets including my past training as a traditional illustrator, I will have to say - the live action remake of the Disney animated classic "The Lady and the Tramp". It is not a big show but how many VFX artists have had this rare opportunity to be able to do old school hand-drawn (and to an extent, hand-animated) illustrations for the opening and closing scenes of a Disney movie. Furthermore, I have never done 2D animation before! I am really happy and relieved with what we have accomplished on these shots.
How do you stay inspired?
I admire all form of artistry and craftsmanship: be it on the big or small screen, stop motion animation, traditional paintings, handicrafts and the like. I also study video games that has amazing environments for me to explore. Video game graphics have gotten a lot more sophisticated and cinematic these days. I like to walk around in the virtual worlds to see how the game developers construct them. Whenever I am creatively stuck, I only need to step outside and look at what surrounds me. Nature will always be the best artist.
Who inspires you at work?
My fellow matte painters all come from a very rich and diverse backgrounds: Lighting, Compositing, Models, Software Engineering, FX and so on. So what happens when you put them together in the same department? We all work together (and in some cases, with the other departments) to come up with smart, time-saving and economical solutions that still look good! I am inspired to see new workflows and ideas that resulted from all of our collaboration.
What advice would you give to young people starting out in their career?
To all the young budding artists starting out in this industry, I would like share the same best advice that I have been given a long time ago : "A stupid question is better than no question". Never stop learning and always keep an open mind.
What do you like about working at Wētā?
Wētā is a very unique place where It feels like working at a big small studio! When you work at a big studio, sometimes it doesn't feel personal enough. When you work at a small studio, sometimes you wish that it could be a bit bigger. The people here are really nice to work with. Wētā FX has put in a lot of respectable work to make the place more inclusive. Did you know that there are 3 deaf or hard-of-hearing artists at Wētā, myself included? That's the most I have ever encountered in a single VFX company!
-Thanks Jerome!