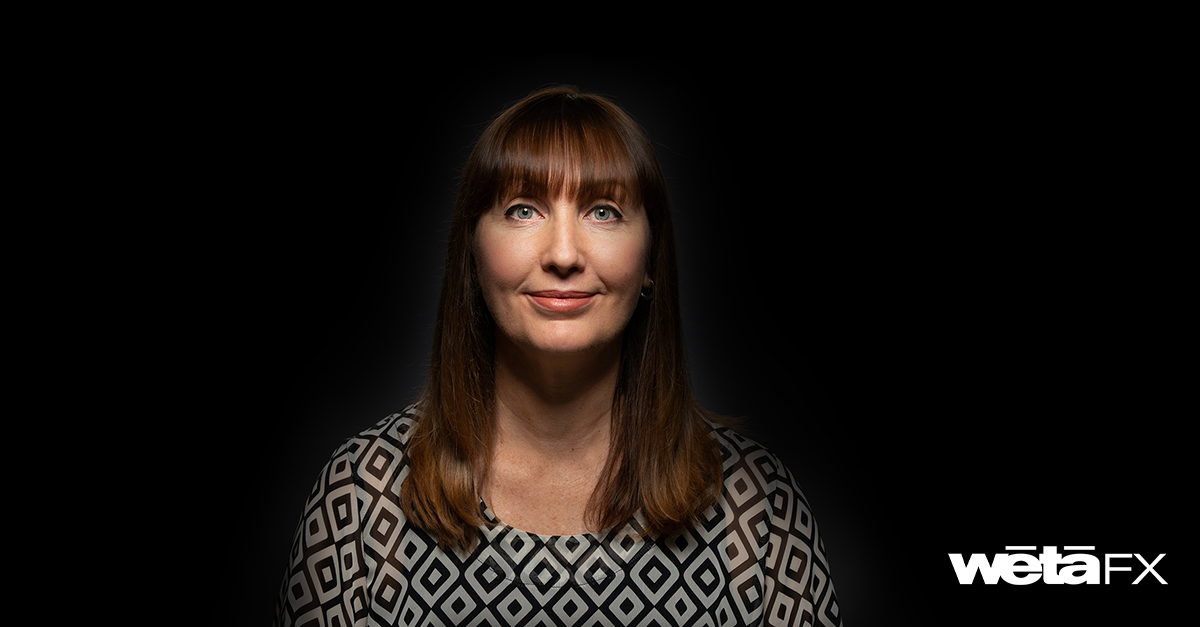 Behind the Scenes with Kathy Gruzas
Published on August 21, 2023
---
Susie Kleis
LinkedIn Project Manager at Wētā FX
---
Kathy Gruzas talks about her career journey that led to becoming our Chief Information Officer.
Can you tell us about your background?
I grew up in Sydney. At 14, I got an after-school job working for a magazine production company as a junior layout artist, which I loved. Straight after high school, I studied graphic design and product photography, and continued working in the print design field. In my early twenties, I went travelling overseas, ending up in London. I started work in the advertising industry. It was the early 1990s, and commodity computing was just starting to take off and the World Wide Web was emerging. I had always been into technology, electronics and computers—my father ran a hi-fi store, was a passionate photographer and was generally into electronics and gadgets— but I was still surprised to find that I was the only one using the solitary Mac sitting in the corner to do my typesetting and layouts. In a previous studio where I had worked, the owner was very into new technology. He was always flying off to the States and coming back with the latest equipment...we got to play with the very earliest Macintoshes and versions of Photoshop and PageMaker, not realising at the time how lucky we were to get such useful exposure and experience. It was only a matter of time before I was persuaded to become the agency's first IT person (something I wasn't entirely sure about at the time, if I'm honest), tasked with putting a networked computer on every desk, backend servers, and providing an email system and Internet access. I was sent off on a raft of IT courses, read nothing but IT manuals for years and worked closely with consultants to achieve the outcomes we wanted. It wasn't long before I fell in love with this brave new world of endlessly interesting things to learn and opportunities, and I embraced my new career in IT after that, wearing engineering, programming and people/project management hats and building up my first IT team.
The agency grew from 40 people to 1000 and our systems grew hugely in complexity (as we were responsible for the Tesco Clubcard, an early and very successful loyalty scheme), and we expanded our direct/database operations into above the line and digital marketing, and acquired a public relations firm. Later, we were acquired ourselves, and by age 26 I was IT director for a group of UK-based marketing companies.
What work were you doing prior to Wētā FX? Were you in the VFX Industry?
I moved back to Australia in 2006, and that was when I first got into the film industry, working for Animal Logic in Sydney. I had been there for five years, and was doing a technology-focused MBA when I got invited to apply for the role of CIO at Wētā FX, in mid-2011.
What does your role as CIO entail?
Being the executive responsible for IT at Wētā FX. Before I started, the technology teams were split into front office (R&D, pipeline, VFX software development) reporting to the CTO, and back office (infrastructure, platform, information/ management systems, support etc.) reporting to the CIO, so essentially it's overseeing what you'd call traditional IT. I work in a consultative and collaborative way with my wonderful team, prioritising our focus and making sure we're all pulling in the same direction.
Has your role here evolved over the years?
So much has changed, and we've grown in size and maturity. I initially set out to improve the culture and get the best people into the right roles. Once that's in motion, it's a matter of collectively setting a course and aligning our efforts, helping people progress and achieve, and getting out of their way as we work to stay ahead of the visual effects technology curve, run the business more effectively and meet production demand. Although I'm very proud of the team and what we've achieved so far, there are always new frontiers and challenges to address.
What are your thoughts on women in technology over the last decade? Do you think there's a lot more interest now? If so, why do you think that is?
The well-used saying 'If you can't see it, you can't be it' sums up the situation well. My father was an early technical influence, and encouraged me to be curious, and the start of my career was all about pursuing interests, trying new things and taking opportunities that arose - my love of technology was something that I discovered rather than pursued, and I am very grateful for those who supported me and opened doors, and conscious of the value of paying this forward.
When I was at school, it didn't occur to me that a technology, science or engineering career was even an option, no one was encouraging young women into these fields; in fact, quite the opposite, girls were made to feel that these were masculine talents and we were insidiously steered in more traditionally feminine directions (despite the 'women can do anything' mantra that was drummed into us). There were few role models or mentors around, and it takes courage and resilience to be an anomaly—to prove that you can do things that are inherently assumed to be 'beyond you' just because of your gender, in a male-dominated arena. There is still much work to be done - banishing gender stereotypes, recognising unconscious biases, promoting gender equity and diversity, addressing workplace culture-issues, providing family-friendly workplaces and supportive societies, etc.
Do I think there's more interest, or women in technology now? Not enough—things are changing, but far too slowly. Women are still proportionally under-represented, and are still leaving the industry, and it's been that way for my whole career. Addressing that balance is an increasingly urgent priority as the technology we build must serve and support humanity, in ethical and people-friendly ways that free us to focus on high value and high-creativity tasks – a diverse technology industry is imperative. Women have a lot to offer the industry, and the industry offers a wide range of fascinating careers.
Do you have any personal projects/hobbies?
Many – I love to learn new things and be physically active, so the weekends are all about getting outside, pursuing various hobbies, socialising with friends and family, and prioritising mother/daughter time – born in 2015, she is a lot of fun to hang out and discover the world with.
What are your favourite things to do in Wellington?
Despite being a smaller city, there is never a shortage of things going on in Wellington, and we love attending all of the local cultural creative events and festivals, enjoying the stunning outdoor environment (walking, running, swimming or getting out on our bikes), and trying out the amazing local restaurants and providores – Wellington is a wonderful place to live.
-Thanks Kathy!