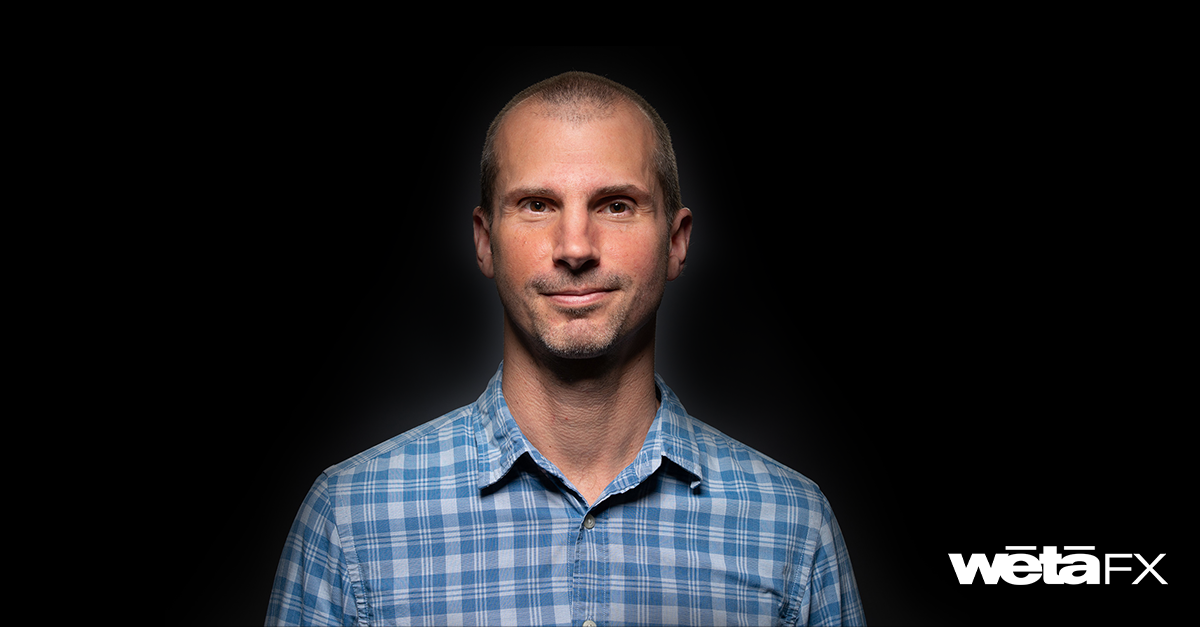 Behind the Scenes with Keith Miller
Published on August 21, 2023
---
Susie Kleis
LinkedIn Project Manager at Wētā FX
---
Keith Miller talks to us about his career path from VR to VFX Supervisor.
Can you tell us about your background and how you got into VFX?
I was always fascinated by technology and computers as a means of creating art, even from a very young age. My parents gave me a KoalaPad for my Commodore 64 in the early 80s and I was always creating digital drawings with it. I probably spent equal amounts of time digging through my father's computing magazines, teaching myself BASIC programming and typing in code, line by line from the printed code in those magazines. It took ages! Eventually I discovered 3d computer animation in the 90's and spent some time working in early tools like PowerAnimator on those old SGI workstations. I found my way over to Maya when it came about and later finished undergrad with an art degree focusing on computer animation, all the while keeping up my studies in math and computer science.
Grad school took me to the Electronic Visualization Laboratory in Chicago where I focused on VR, primarily developing for CAVEs since the head mounted display revolution was still 10 to 15 years out. In parallel, I was working in holography on the side, and along with some friends, co-founded a company that focused on developing affordable rear-projection VR systems and content for those systems. Interestingly, Chris White had also attended EVL prior to my time there, but came back through to finish up his thesis after working at Wētā FX on Return of the King. Chris was already working on King Kong, and asked if I might be interested in helping him with development of the procedural systems for creating digital Manhattan on that film. I jumped at the chance and was packing my bags shortly after.
What does your role entail?
I am currently working as a Visual Effects Supervisor. That role is responsible for engaging directly with both the clients and our own internal teams to facilitate production and delivery of the best possible visual effects we can produce on time and under budget. It's a wide-ranging role that requires an understanding of everything from traditional film-making practices on set through to the latest technological advances in visual effects. There's an emphasis on building and managing solid teams on a production, and really leveraging the particular skills and abilities of the hundreds of talented artists and crew you work with.
It's really odd, but the last 3 years or so have come full circle for me as my work focus has veered back into VR / AR and the various other flavors of that technology out there. I am currently working with a team focused on using those technologies not only for producing content for our clients, but for developing tools that help us to augment and re-think our traditional VFX processes.
What parts of your job do you find the most challenging and the most rewarding?
I'm loving the variation my current role affords. I love that I get to be involved in exploring and testing such bleeding edge technology while still having creative outlets and projects to supervise. Where else would I get to test and develop with all the newest toys, while contributing technology to the latest feature films and even working with musical artists like Childish Gambino to create custom 360° visuals for his concerts. There are always new problems to solve and new challenges when working in such an experimental space. Sometimes that gets frustrating, as things don't always work as expected, but it's never boring.
What advice would you give to someone who wants to work at Weta?
Don't stop trying. Don't stop creating. Be open and listen to feedback. If you truly have a passion for this kind of work, just keep pushing yourself and putting your work out there and the opportunities will eventually present themselves to you. I love hearing those stories about someone who gets a spark to try something new and that hobby becomes a passion which then becomes a career. I've seen that happen over and over throughout the years. You just have to persevere, but if you really love what you're doing then that shouldn't be a painful process. And if you don't love what you're doing, then you should be doing something else.
What do you love most about living and working in Wellington?
Wellington - and New Zealand - have clearly earned a spot in my heart. I moved here with a wife and a 10 year old son, only planning to stay here for a year. Now, almost 15 years later, I have a 13 year old that was born here, my 25 year old son has been working at Wētā FX for 4 years, and my entire family are all New Zealand citizens! Opportunities to work any number of other places in the world just haven't been able to convince me there is a better home for us anywhere else. Short commute, beautiful nature, safe place to raise a family . . . the list goes on.
-Thanks Keith!